Rocker Cover Race – Official Rules:
The track.
The course shall consist of a ramp that is 8 feet (2.4 m) long, followed by a horizontal and level runway of 20 feet (6 m).
The ramp shall be divided into 2 parallel lanes, each 2 feet (0.6 m) wide. The ramp must be 2 feet high at the rear. In front, the transition to the horizontal section must be smooth and without obstacles.
The horizontal outlet lane shall consist of 2 lanes, each 2 feet wide.
The official "Start Line" must be 2 feet from the back edge of the ramp. A mechanical gate triggers the start.
The finish line must be marked 20 feet from where the ramp ends.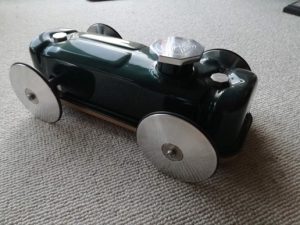 The cars.
The cars must not have any engine power. All propulsion must take place using the law of gravity.
The cars must be based on/around a valve cover from an English car engine.
The wheelbase must not be greater than 24 inches (60.96 cm).
Track width must not be greater than 14 inches (35.56 cm).
The cars must have 4 wheels and they must not be larger than 6 inches (15.25 cm) in diameter.
See the fun on these links:
The Race.
The cars will be driven in heats with 2 cars each.
The cars will be sent off with their front wheels standing on the starting line. The first car to cross the finish line with the front wheels on wins. If no one crosses the finish line, the one who gets the farthest wins.
If the wheels touch the lines that separate the 2 lanes, or it crosses into the opposite lane, it is disqualified. The competing car will be declared the winner immediately.
The winning cars will immediately advance to the next round until all but one are eliminated.
Updated by Gert Jørgensen 2013